Applied products
Building & Civil Construction
>
Applied Products
>
Building & Civil Construction
Building & Civil Construction

'HANALON', which is resistant to water and humidity, is excellent in water repellency and damp proof property.
Particularly, 'HANALO' flame-retarding product was acknowledged by UL which is an international certification agency, and internally, this product is guaranteed as the Korea Energy Management Corporation's forma approval of heat using machinery.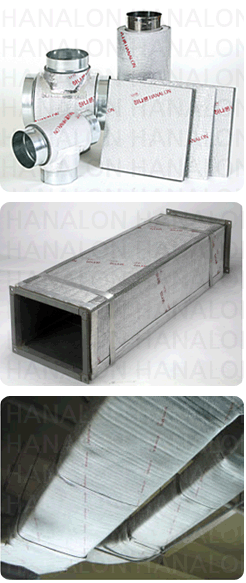 Characteristics

- It's a semi-hard high foam sheet of independent closed-cell, and its thermal
conductivity is low, making it excellent in thermal effect.
- In addition, its material is absorptiveness- resistant, so its insulating performance
won't lower even in the lapse of long hours, making it excellent in preventive
effect of dew condensation phenomenon due to the temperature range between
outside and inside temperatures.
- It is excellent in cutting, bending and adhesiveness, making it possible for this
material to be suited for a square & round duct construction.
Use

- Thermal Insulation of the piping for water supply and hot-water supply
- Central Heating Piping(Hot water Piping) and Sanitation Facility Piping
- solar heat heating piping
- Prevention of dew condensation of apartment housing embedment and
thermal effect on piping
- Thermal effect on fire-fighting piping
- Thermal effect on air-conditioning piping
- Thermal effect on flexible joint for the sprinkler
Product Standards

- Width : 1000mm – 1400mm
- Thickness : 10mm – 25mm
- Lengtth : 25m – 50m
- Option : Tinfoil, flame-retardancy(viscosity, non-viscosity)
Surface colored film, flame-retardancy (viscosity, non-viscosity)